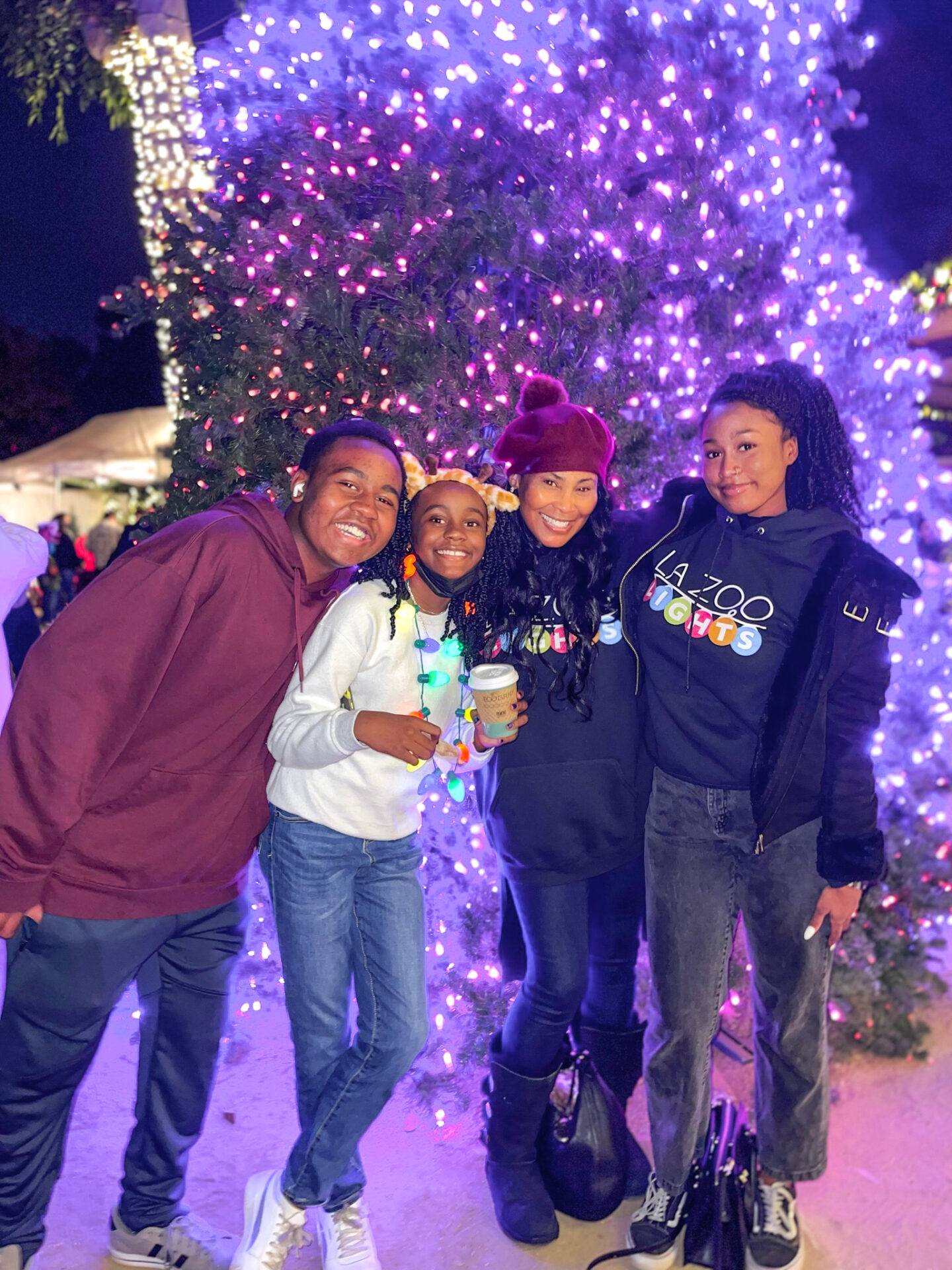 Hey Sunshines,
Since 2014, La Zoo Lights has been one of the most popular holiday light events in Los Angeles. We loved it! During the holiday seasoning, we enjoy going to fun festive places in California. The LA Zoo Lights was a spectacular event that will be running from November 19, 2021 – to January 9, 2022. It's about an hour walk through certain sections of the zoo with the light inspiration of the animals.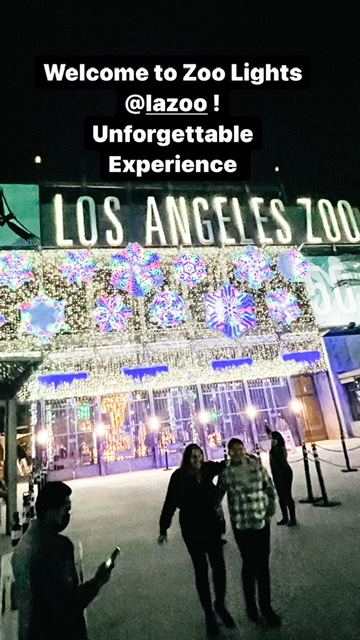 From the moment you walk through the gates, the light show begins! It is an interactive experience that you will never forget! The lights were all themed with shapes of animals, and nature and full of colors! It was a joyful experience that we all loved! We were honored to be invited to LA Zoo lights and delighted to share our experience. Its the perfect festive event for families with children or couples.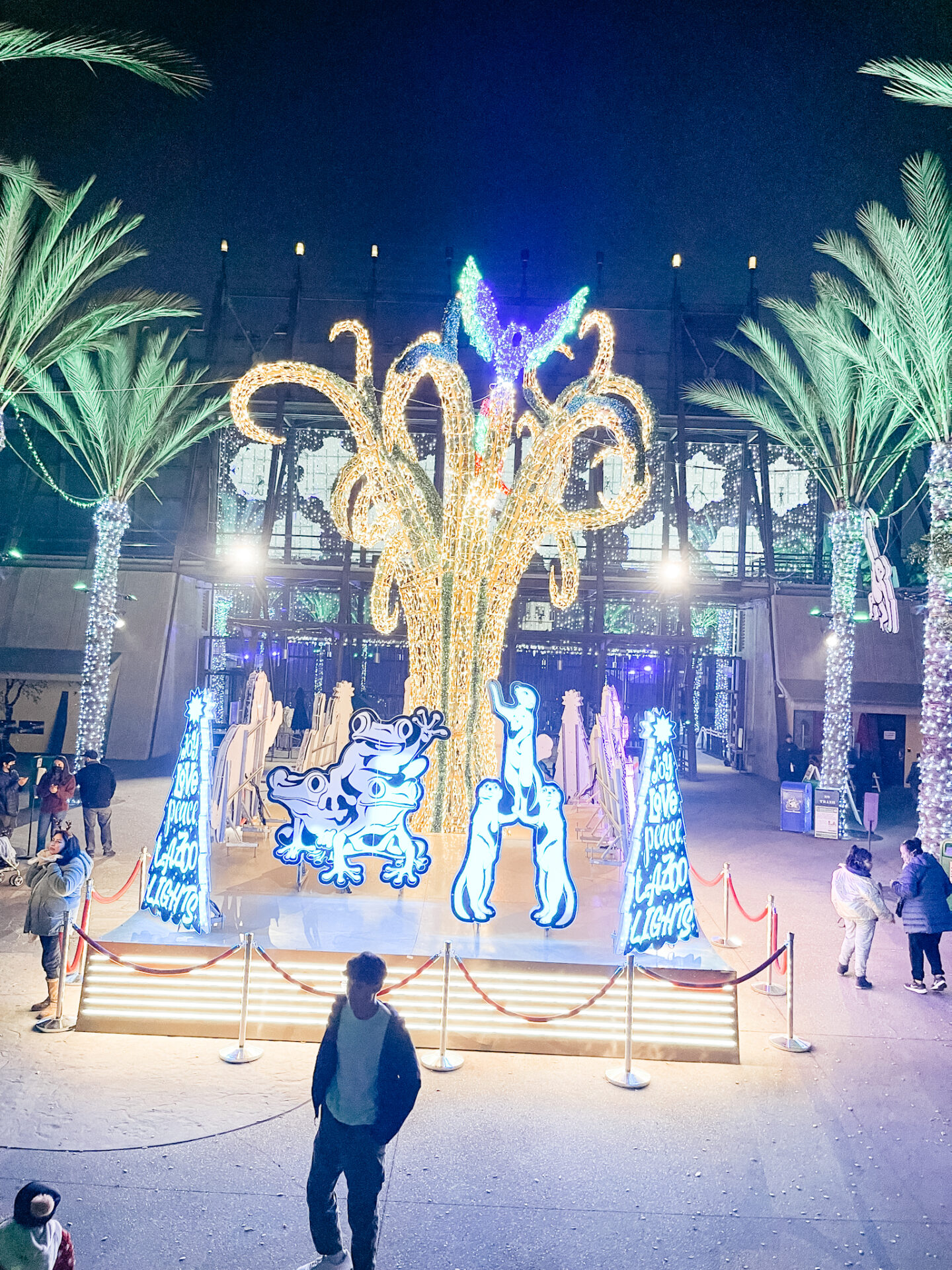 LA Zoo Lights is all about seeing the holiday lights of the animals while the real animals get their rest! Although photos are welcomed it's very important to not shine your light into the animals' habitat to disturb their sleep. It was so awesome how all people in attendance respected the animals. In the Deck the Hall with Disco Balls display, we had to be very quiet but the light decorations were so interesting you enjoyed the silence. LA Zoo Lights is a light experience for all ages. I was just excited about the lights as the kids!
The Tom Mankiewicz Conservation Carousel is full of colorful lights that dance as you ride the carousel. The carousel is an additional cost of $3.00 that is not included with the ticket purchase.
We stopped by the Gifts and Goodies store and purchased some fun festive merchandise. Bailey and her friend had to have matching furry headbands and tails. They loved their colorful light-up necklaces. I purchased a few Zoo Light hoodies and we definitely need them! At night, it gets chilly and I advise you to bring a sweatshirt, hoodie, jacket, or drop by and get a keepsake Zoo Light hoodie!
We definitely took a photo in front of the well-lit bright red LA Zoo Lights sign.
FOOD
We dropped by to get hot chocolate and churros from the Sweet Treats! Now, that was a total hit for the kids and adults. LA Zoo has a full-on bistro to get all types of food from pizza to burgers. Based on the long line, the mega-sliced pizza seemed to be the most popular.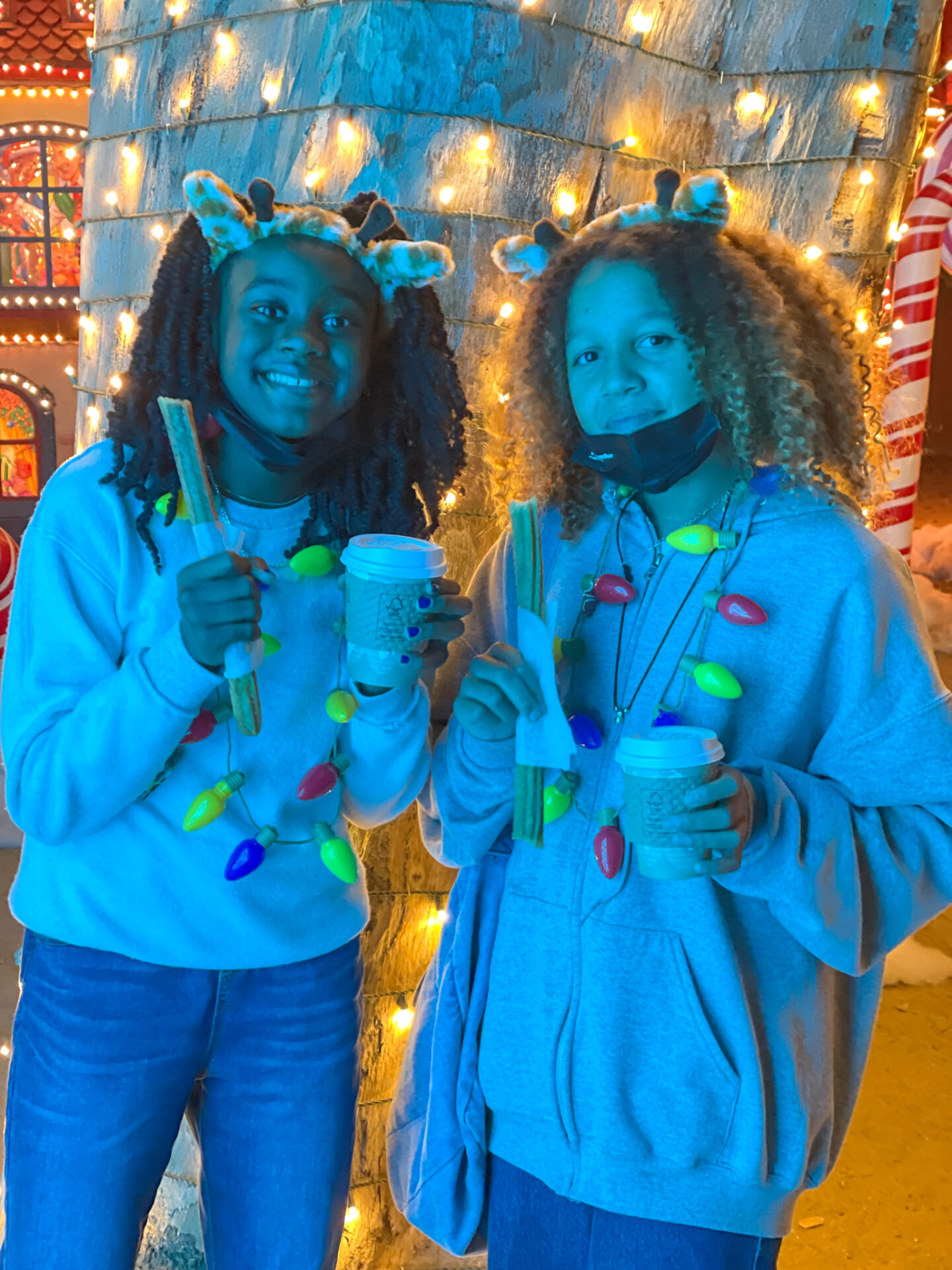 FAVORITES
The Holiday Village was the perfect place to get a professional photo by the massive Christmas trees! The lights all throughout the area, people were busy taking photos. It was light with mini trees and cottage-style living with a plethora of colors! The Holiday Village definitely makes you feel like it's December festive.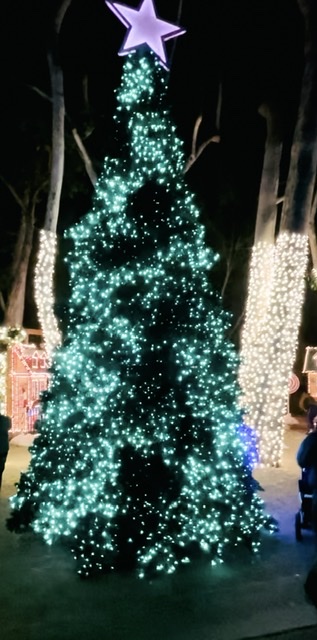 The 200-foot Twinkle Tunnel was just a total light fest! We walked slowly to capture every single moment of the colorful lights and design. The LA Zoo Lights ticket sales support their mission to inspire appreciation for wildlife and safeguard species, and habitats around the world.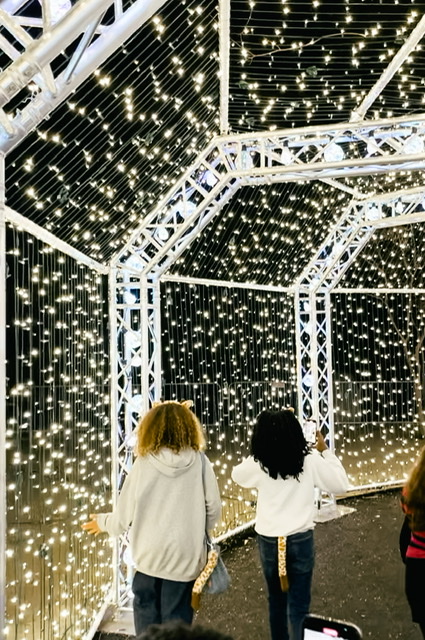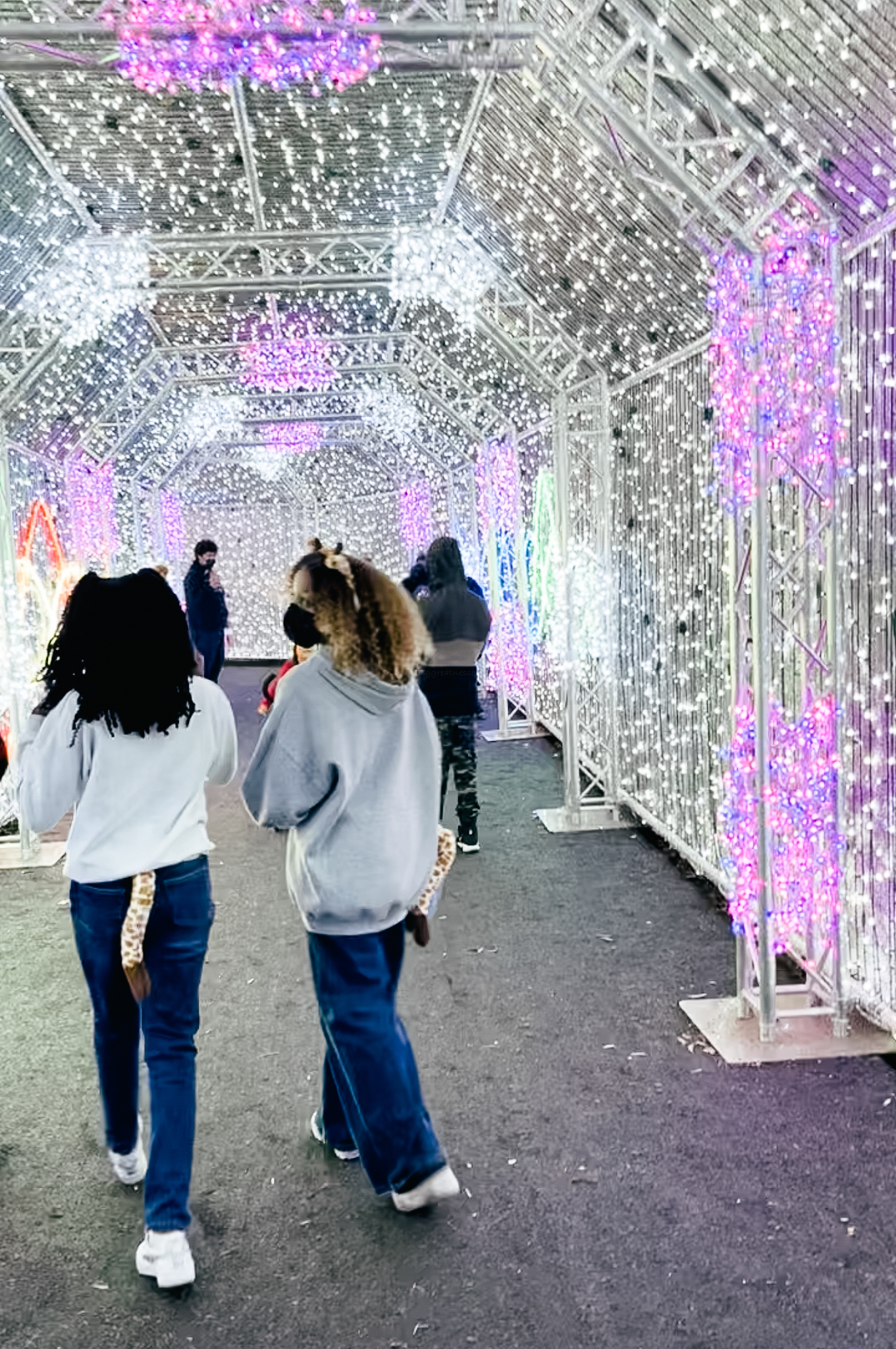 The LA Zoo Lights event is a magical event that you will never forget! The zoo transforms into a winter wonderland with beautiful light displays of animals. All ages are welcome to this wonderful event and I advise you to bring a warm jacket! The hot chocolate and churros are a must-have while you experience the LA Zoo Lights! Get your tickets soon, this event will sell out!
Special thanks to the La Zoo Lights team for allowing us to experience this fun-filled holiday event. This is an unbiased review of our experience at LA Zoo Lights.
LA Zoo Lights is open every night separated into 2 different sessions: 6pm – 10pm and 7pm – 11pm
PARKING
There is no charge for parking and it was easy to get a parking space. All the parking spaces were within a short walking distance. But, it will be much more walking inside to see all the lights of the animals. I recommend strollers and be prepared to walk.
SAFETY
The LA Zoo is requiring all guests 12 and older to provide proof of full Covid 19 vaccination or a negative Covid 19 test taken within 72 hours of entering the zoo. Guests 18 and older will need to show matching photo IDs. Masks are required in all indoor and enclosed public settings, including the LAIR, retail and foodservice locations, restrooms, and Safari Shuttle.
Overall, I know you will enjoy LA Zoo lights with your friends and your family! I know we will be returning. It is a spectacular event for all ages and definitely worth the visit!
Learn more about LA Zoo Lights here: http://losangeleszoo.com
*Please note that the listed age requirement is only for those who are entering the LAIR, not all of LA Zoo Lights. Please check the website for up-to-date information. You can purchase your ticket online!
Well, until next time, remember, its always time to shine! ……….
Much Love and Sunshine,