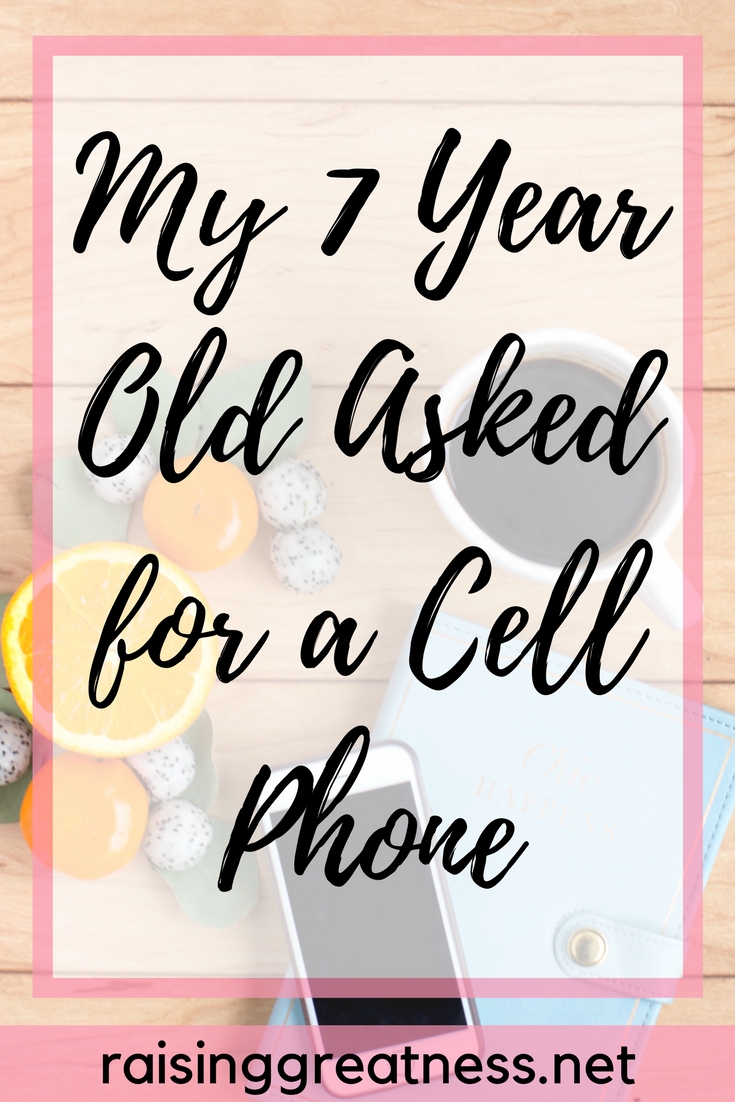 A few weeks ago, my youngest little blessing, seven year old, Bailey Rae ask me for a cell phone for the tenth time this month! The answer was "No" all ten times! I struggle with what's the perfect age to give a child a cell phone.
Seriously, she is seven years and only half way through first grade! Maybe, I am just an old fashion- not with the times mom,but I love the decision that I made, "the answer is No, you don't need a cell phone yet."
Bailey Rae is my highly energetic bigger than life child! She is the youngest and gives our family so much joy! Honestly, a cell phone would be a really bad idea! I mean, Bailey would call me and my hubby countless times a day! She would certainly call a few other people too! I know she would download every single princess game in the play store!
Seriously, I want her to use her imagination, play make believe, and enjoy all the innocence of childhood. We live in a society that is totally technology driven, but a cell phone in the first grade, I think not!
After Bailey Rae realized "No" was the final answer and her big pretty brown eyes would not sway me, she skipped off smiling. I thought to myself…..just maybe get her a basic cell phone.
Later that day, Bailey returned with that same sunshine smile with her "DIY" perfectly designed paper, Apple iPhone Heart, with all the symbols, etc.
I laughed and felt like dancing because it confirmed why she does not need a phone yet. Frankly, we all need to find more time to fully use our imagination without the assistance of technology.
Now, I know our world needs technology! But, how much time a day is considered addictive? Are we spending an excessive amount of time scrolling through social media and emails? Why are young children eager to have mobile devices, too?
I know my seven year old will be perfectly fine without a phone. Frankly, I am not sure exactly when little Bailey will get a phone.
Lately, I have contemplated do my older children need it and how do I limit their time with their mobile devices. Furthermore,I began to think about how much time do my husband and I spend each day fiddling with our mobile devices.
THE QUESTION
Honestly, Bailey Rae's question made me think deeper about are we using our time wisely? Does she see that we value these fancy Smart phones more than anything else, even quality time with human beings?
Is it because I am always on my phone? Is it because her older brother and sister have one? Is it because she sees my hubby checking his Fantasy football point totals? Is that her friends have phones? I really don't know the answer to the endless questions in my mind about why my youngest child wanted a cell phone. But,Bailey's inquistive techy interest caused me to stop and assess all of our overall behavior with our handheld devices.
THE BEAUTIFUL LITTLE LESSONS
Now, I am taking every opportunity to encourage my family to explore adventures and activities that allow us all to unplug from technology and reconnect to being fully present together.
In addition, I have set new goals for my family to unplug every evening at 7 p.m. from
all technology and plug into our family. So, I found this cute little lock-up basket on Amazon for all of us to put our gadgets in lock-up, during the week, at 7 p.m.
Honestly, it is a huge shift for my family and my two older children, Brookelynn and Brayden are not thrilled about the new cell phone lockup! But, I have seen a positive shift in all of their study habits, grades, focus and communication. They may not be happy about the lockup. But, they acknowledge that they sleep better, goal set more often and read more.
Hey, it's certainly not easy for my husband and I. However, I have finished reading two books in the last 30 days because I am spending less time on my cell phone, social media etc. It feels good to be back in my local bookstores discovering the next best seller and setting my life goals too. My children are excited again about going to the library and the lovely Calabasas Barnes and Nobles. The car rides home have become full of meaningful and thought provoking conversations.
I feel like I am getting reacquainted with my three blessings by simply powering down from the demands of technology.
Truly, I am confident that our family has been introduced to the love and freedom of choosing to unplug from technology and plug back into the simple joys of life and quality family time. We are dedicated to plugging into what matters the most, "being present with our family" laugh often, and love deeper.
I know little Bailey Rae asking for a cell phone helped us all refocus on what really matters. I am grateful my little seven year old Bailey relentlessly with her request!
Our family is gradually making changes to use our imagination, play more board games again, and use our time more wisely. Yes, I totally love that our children continue to teach us little but big life lessons everyday. Thank you, little Bailey Rae for your life lesson that has caused our family to be more aware of our uninterrupted family time and focus on the things that really matter.
Join me on this journey of freedom from the demands of technology and unplug with your family every evening for 30 days!"The Family Unplug Challenge for 30 Days"
I am certain it will be a beautiful family discovery of reconnection and a higher level of gratitude! Its time to put down our techy devices and cherish our family time together!
Please join us on #familyunpluggedchallenge30!
I cannot wait to hear about all of your incredible family awakens from just simply unplugging.
Much Love and Sunshine,