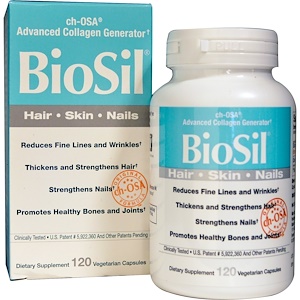 I am always looking for products to help me with growing my hair, nails, and maintaining flawless skin. My goal is to stay wrinkle-free as long as possible and hashtag #backoffwrinkles. I decided to research the top beauty products and Biosil was a bestseller. I like to do diligent research before I get too excited about a product.
I wanted to write about a topic that is a universal beauty problem for most women. I know there are so many women, including me, that have damaged their eyelashes, hairlines, hair, and eyebrows. I think this product Biosil maybe the answer to hair growth and a bonus of glow-up skin. Listen, I like to save money and still get all things glam. The truth is I am healthy stuff junky that loves a good sale.
Yesterday, while putting on my $5.00, old school, Maybelline Great Big Lash mascara, I thought I noticed that my eyelash was longer and thicker. But, I talked myself out of it. I just knew I was seeing things with these new contacts. I figured it was just me wishing and hoping that my lashes were naturally getting longer and thicker.

HOW DID YOU KNOW IT WAS WORKING?
I went to my favorite esthetician, Jennie, who has taken care of my eyebrows for more than 13 years. She said, "You look different, Karen. What did you do to your face and your eyelashes are longer? You look like you are getting younger than before. Did you get eyelash extensions? Did you do something to your face, you know you can tell me? Your eyelashes are long and thick. Your skin looks amazing."
Honestly, I have been fortunate to get my mother's genes. However, I am trying to slow down wrinkles, aging, and take the edge off of dealing with chronic pain. Jennie confirmed that I was not just seeing things.
Here is my beauty tip for the week: Biosil! Seriously, it works. I have tried a few healthy skin, hair, and nail products. But, Biosil has to be one of my top favorites, after all, I have long lashes, now. I have only taken Biosil for a short period of time and the results are already noticeable. Click on photos to purchase products from Amazon.
WHAT IS BIOSIL AND WHAT DOES IT REALLY DO?
Biosil is a supplement containing minerals of 100 mg of choline and 5 mg of silicon. It helps promote strong bones, healthy skin, hair, and nails. Research has proven that Biosil helps with osteoporosis, calcium absorption, reduce bleeding, and supports healthy body tissues. It helps reduce and minimize wrinkles.
According to other Biosil users, they noticed stronger flexible bones and joints. Well, I am all things healthy and loving the fountain of youth, my Benjamin Button potion, Biosil. Maybe, this supplement will enable me to do 'downward dog' much better in my yoga class.
Biosil does not contain soy, dairy, egg, corn, wheat, gluten, fish/shellfish, nuts/tree nuts, and it is labeled as vegetarian. We all want to age backward and be healthy.
IS BIOSIL SAFE FOR EVERYONE?
*Always consult with your physician before taking any supplements or products that may conflict with your medication or medical condition.*
My results are real with thick and long eyelashes, stronger nails, vibrant skin, and reduced chronic pain to prove it.
I am always looking for ways to naturally calm my daily aches and maintain my overall health. Biosil gets two thumbs up. But, remember, its important to consult with your doctor to make sure this will work for you. Personally, I have not had any adverse side effects. It has been a total win for me using this product.
It's important to me to always write an authentic review of all products. Therefore, it was time for a trip to my local health food store to ask a few more questions. The "All Things Healthy Team" told me that Biosil is a smart supplement and travels to the areas of need in the body. Well, I certainly believe it, based on the results of my eyelashes, skin, and joints. I am a Biosil fan. I will keep you posted along the way how it goes; especially, if I change into the young Rapunzel with long natural lashes.
WHERE DID YOU PURCHASE IT AND IS IT EXPENSIVE?
I purchased this miracle stuff named Biosil on Amazon. Click on the picture to purchase it now. It's not a cheap product, but if you wear eyelash extensions, you will definitely save tons of money by using Biosil. If you have chronic pain or aging skin, it's worth trying it.
The price range varies for 120 capsules for about $50.00 seems to be the median. The liquid form of Biosil is about $26.00. In addition, Biosil has a collagen generator product that I have not tried but interested in testing it out.
On Amazon, Biosil has a low return rate and four- five-star reviews.
By the way, I never promote products that I do not use or believe in. Please let me know if you try it and how it worked for you. I love it and Biosil will be one of my favorite must-haves for beauty! BIOSIL.
Much Love and Sunshine,